I've been coveting the Crania Anatomica Filigre, or 3-D printed skulls, since I first stumbled upon their origins on Kickstarter. Sadly, I still haven't found enough of a reason to spend over $100 on a skull… let alone another objet d'art… so I wallow in full-covet every time I see someone's well-styled bookshelves with one (or several) of these darlings peeking out behind vintage copies of Alice in Wonderland.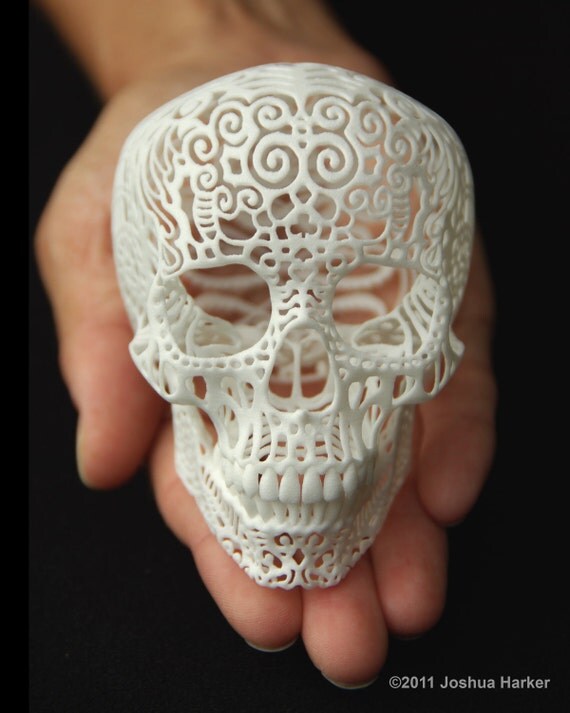 The only sure for a covet so cfraty is Etsy; so off I go, wondering if perhaps 3-D printing magic has reduced the price to say… $39.95?
My obsession with skulls is a singular affection – only the anatomical need apply. Sure, my artistic senses can elaborate this to the well carved mandible with a hot pink grill but if you can barely tell it is a skull… what is the point? While working at The Bone Lab I had the pleasure of reading someone's medical autobiography off of their jaw and if our bones will go on after us what are they going to blab?
Etsy has a number of fanciful skulls beyond my carved-covets. From the customizable blackboard painted skull – to more practical interpretations, including some wedding china, sleep masks, and these awesome shoes that could be Charlotte Olympia's creation on a really really dark day (someone please flip a coin and create that timeline ty).
I also have to bring up this crazy awesome dragon skull. If dragons were found real I have a feeling their skulls would have amazing designs imprinted into them.